Cottage Indusries in Taos Canyon
The Taos Canyon Neighborhood Association supports local cottage industries including artists, healers, llama and other animal fiber sales, dog and cat boarding, and dog training.
Become a Member! today.
TAOS CANYON KENNEL AND TRAINING CENTER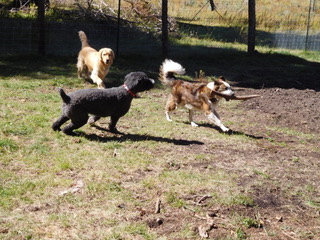 Overnight Boarding and Daycare
Cats are Welcome
Owned and Operated by Susanne R Felser, VMD
575-758-4229
Physical Address:
26900 Highway 64 East
Taos Canyon, Taos, New Mexico 87571
Mailing Address:    224 Este Es Road,  Taos, NM 87571
Taos Canyon Kennel and Training Center is located in the Sangre de Cristo Mountains in Northern New Mexico. It is on the fifty-seven acre Magee Mountain Ranch owned and operated by retired veterinarian Susanne R Felser, VMD. Taos Canyon Kennel and Training Center offers a new dog and cat boarding facility for the Northern New Mexico area. It is conveniently located between Taos and Angel Fire. It is 15 miles east of Taos and 10 miles west of Angel Fire. The dog kennel building is just down the hill from the owner's residence. It is light and airy, has heated floors and a large play yard enclosed by an eight-foot fence.
Training Classes
Training Classes are offered from Basic Obedience to Advanced Off-leash. Individual/Private Training can be arranged to include Behavioral Problems or Puppy Training.   Call the office at 575-758-4229 for scheduling and costs.
Our programs aim to enhance the quality of life with your dog. They focus on learning how to walk your dog without pulling or lunging. Commands include sit, stay, down ... Calling your dog and being rewarded with its immediate response ... Controlling your dog in distracting environments ... all resulting in consistent obedience and a relationship based on trust and mutual respect.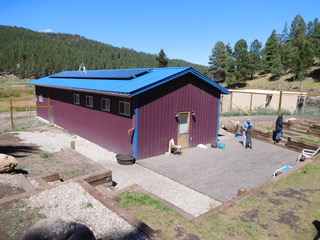 Kennel Boarding and Day Care:
Call the office at 575-758-4229 for scheduling and costs.
Drop-off and Pick-up by Appointment only
No credit cards accepted ... pay with cash or check at time of discharge
No charge to administer medications. Owners need to provide food and necessary medications for their pets. Diabetic borders could require blood glucose testing at an additional charge.
RIO FERNANDO FARM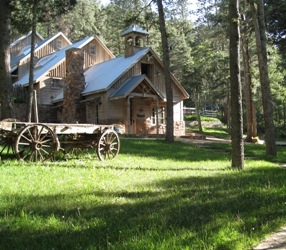 Shelley Loveless
#3 Sunset Drive
Taos, NM 87571
---
Rio Fernando Farm is a working farm located in Taos Canyon just west of mile marker 263 on US Highway 64 East.  Its main goal is producing fine fiber animals and wonderful fiber products produced from their wool.  The fiber animals bred, raised and sold here are long-wooled Llamas, Suri Alpacas, Pygora Goats, and German, English, French, and Satin Angora Rabbits.  We also raise Miniature Horses, Miniature Donkeys, Chickens and Champion Papillon Dogs.  Fiber and fiber products are also available for sale.  Give us a call at (575) 758-0019 or email us at rioFernandoFarm@gmail.com to schedule a visit!