ART ON THE RIO featuring the Art of Linda Rauch Gallery and Sundown Designs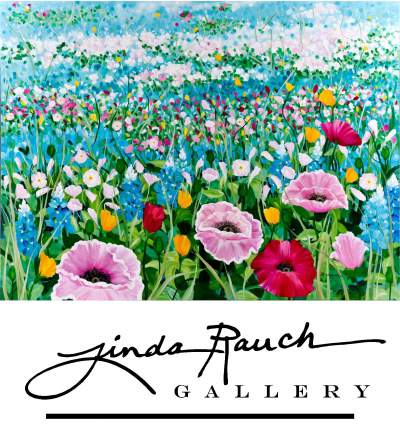 ART ON THE RIO is located at 26070 US Highway 64 East along the banks of the Rio Fernando River in gorgeous Taos Canyon. The Enchanted Circle Drive through Taos Canyon is designated as a National Scenic Byway. Here you will see the art work of painter Linda Rauch and sculptor Rick Hewitt. Linda and Rick invite you to enjoy their art work while strolling through this magical mountain property.
Linda won first place in the New Mexico State Art Contest which was sponsored by Hallmark Cards when she was just 16 years old. Linda was born and raised in Carlsbad, New Mexico. She graduated from college with a B.S. in Art Education and taught art for 23 years in many different locations including Australia. Linda is now a professional artist that has shown her work in many different galleries throughout the United States. Before moving her gallery to Taos Canyon, Linda's gallery was located on historic Ledoux Street next to the Harwood Art Museum in Taos, New Mexico. Linda paints in acrylics and also watercolors. She describes her work as floral fantasies and dream-like landscapes.
Rick is a retired builder and also a sculptor. Rick remodeled the property that ART ON THE RIO is located on entirely by himself. Rick works in metals and woods. You can see the artist in what Rick builds, and the builder in the sculpture that Rick creates.
We can be reached at Linda Rauch Gallery 246 A Ledoux Street Taos, NM 87571 (512) 417-0116
Learn More View Prints